_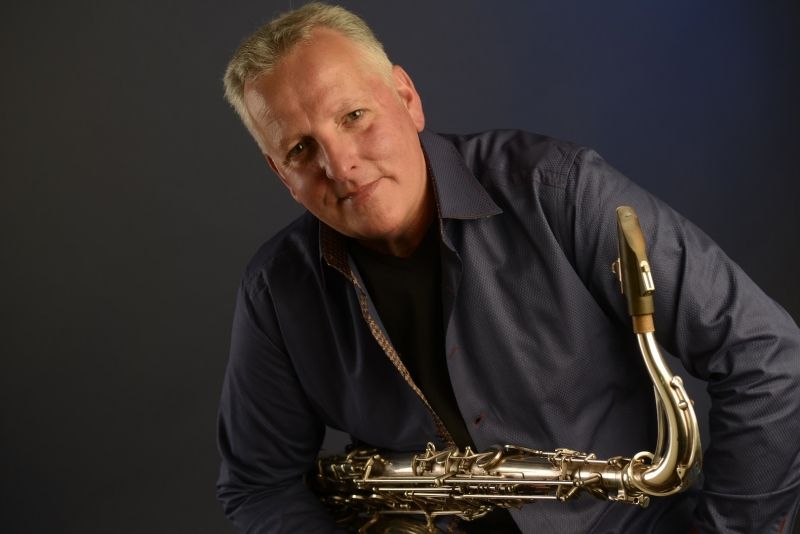 In January of 1987, soulful tenor saxman Deric Dyer ran into a friend with an inside connection to the Tina Turner band and the friend had a hot tip. There was an opening for a sax player for Tina's impending Break Every Rule World Tour and the 31-year-old Dyer had a shot at an audition. Tina had already auditioned most of L.A.'s sax players and another batch from London, and no one could "cut her stuff." Within one day's notice came Dyer's chance to play for the great R&B rock queen, the one and only, Tina. And Dyer was ready. But ten degree weather messed up his flights to Los Angeles. He missed a connection in Denver and Dyer was freaking out. Now, he was going to be late for the coveted audition in L.A. Being in the right place at the right time was important! Dyer remembers screaming at the airport staff, "You don't understand! I have to get on this plane since I'm auditioning for Tina Turner!" "Yeah Right" was the answer. Meanwhile, Tina's office was screaming that Tina was fuming about Deric being late and further, she wanted to go home. Finally after much haggling and fighting with the airline staff, he got on a plane and landed in L.A. Tina's road manager was waiting and with blood pressure rising, he grabbed Dyer, ignoring any luggage and tearing up the highway in a frightening race from LAX to Burbank where Tina, her nine piece band, lights and crew were impatiently waiting. Don't mess with the Tina! Dyer walked in and Tina said, "We're gonna teach this guy a lesson since he is LATE!" And then she turned to Dyer, "What tune would you like to play?" Dyer said, "well what tune would YOU like to do?" "This is YOUR audition, what would YOU like to play?" she snapped back. Dyer mentioned a tune. "Great, we just did that one, let's see what you can do!" she said. So then the band, Deric and Tina launched into "Typical Male". Dyer performed for about 90 minutes with the 40-something-goddess Tina shouting and singing in his ears and dancing all around the 31 year old sax player, teasing him and giving him a hard time. She wanted to know if he could D-E-A-L. She wanted MORE. But, she liked him. She liked him a LOT. Dyer had that edge, that sound that she liked . . . Her managers watched Dyer closely for a few days to see "if he had any bad habits," and they put him up in a hotel over in the Valley for a few nights after the audition. He was there all alone, not knowing anyone and still basking in the glow of the great Tina, his mind churning. Dyer describes these nights as "a little surreal." Alone in a restaurant he decided to chat with a waitress and he told her that he'd just auditioned for Tina Turner's Band and that he'd gotten the gig. "Yeah Right," was the response. He DID get the gig! He flew back to Boston, raced around to pack his stuff, then quickly shot back to L.A. and immediately launched into a month of rehearsals in L.A., two weeks of high tech production in Munich and then it was out on the road to play for over 5 million people and 250 plus concerts worldwide! Talk about going from thirty to ninety miles an hour! This was a HUGE tour, linked to her Break Every Rule album release; they played Wembley Arena in London for 13 amazing nights in a row and more continuous shows in Europe than any artist at the time had ever performed. They played in front of a record-breakingcrowd of 200,000 screaming fans in Brazil, a killer concert that also aired live on HBO's landmark television special Tina Turner, Live From Rio in 1988. They recorded Tina Live. While in Europe they taped MTV's Tina Turner in Europe. The world belonged to Tina's band that year and Dyer was definitely on a roll.
Tina & Deric in Rio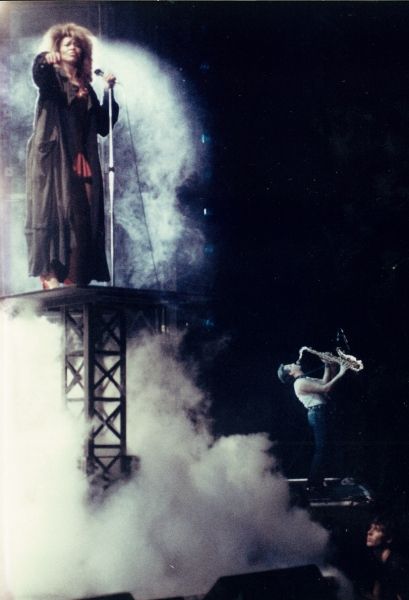 Tina & The Band with Eric Clapton after playing with us at Wembley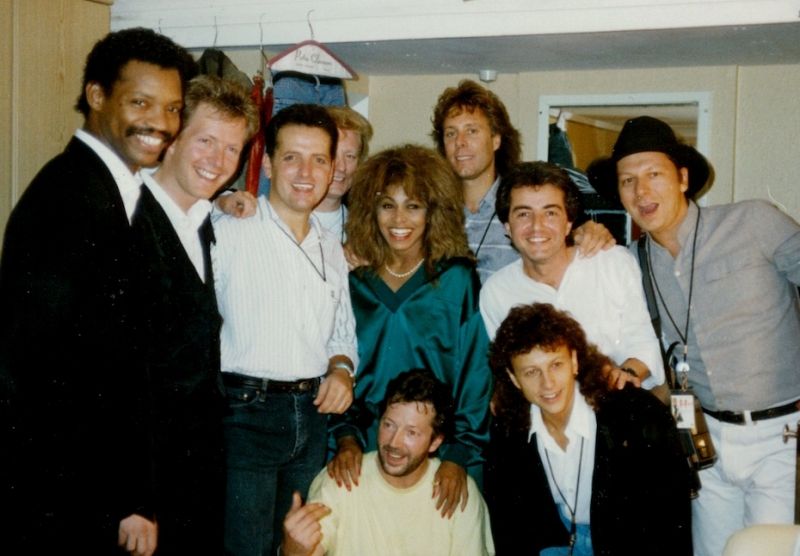 Deric's First Band "The Altogether"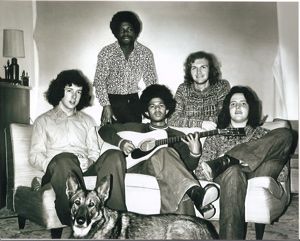 David Skinner/Guitar & Vocals, Reggie Dill/Keyboards & Vocals, Alan Zuel/Drums, Barry Fitsimmons/Bass & Vocals, Deric Dyer/Sax Keyboards & Vocals.
The Bermuda Triangle . . . Dyer, originally born in Ireland in 1955 and raised on the stunning island of Bermuda as a child, was handed a saxophone [he had been playing clarinet] by Sister Joseph Anthony while playing in the band at Mount St. Agnes Academy. Since then, the music world has opened its arms to him. By age 16 he was already playing seven nights a week in night clubs! Both his parents were musicians, so perhaps it was "genetic"! He picked up technique and musical study in bits and pieces here and there--but his playing was truly natural. It was in his blood; give Dyer a stage, and he'd just take care of business. By 19, Deric had his own band and was already performing regularly around the island on tenor sax, keyboards, congas and vocals!
America Beckons . . . In the early '70s, a Boston rock band called American Standard happened to be in Bermuda for some dates in sync with Spring Break. They were knocked out when they heard Dyer play so they invited him to move to Boston to work with their band. Dyer took a chance, packed up and moved to Beantown and soon after, great things began to happen. "When I was playing in American Standard [between 1975 and 1978] we connected with Woodstock creator/producer Michael Lang, who came to see the band. Lang was associated with one of the truly great rock voices of all time, Joe Cocker and Cocker was looking for a band that didn't have any bad habits. So in 1977, American Standard ended up being Joe's backup band and yet the band still worked in between gigs with Joe as American Standard. We toured with him in America and Australia for two years," relates Dyer. By 1978, American Standard also coupled with Island Records mogul, Chris Blackwell. "We made two records for Island but only one was ever released," says Dyer. Bad management and unfortunate timing led to the breakup of the group in 1979. Dyer moved back to Cambridge and played the Cambridge/Boston scene for several years, working with Boston-based bands like The Reflectors, The White Walls and later, by 1986, with a band called Farrenheit. Dyer recorded on Farrenheit's first album for Warner Bros. with seminal music producer Keith Olsen [known for work with Fleetwood Mac, White Snake and Foreigner] and then exited that group. It was after that, that Dyer auditioned for Tina, and the rest was history.
Farrenheit In L.A. Taking a flight with Keith Olsen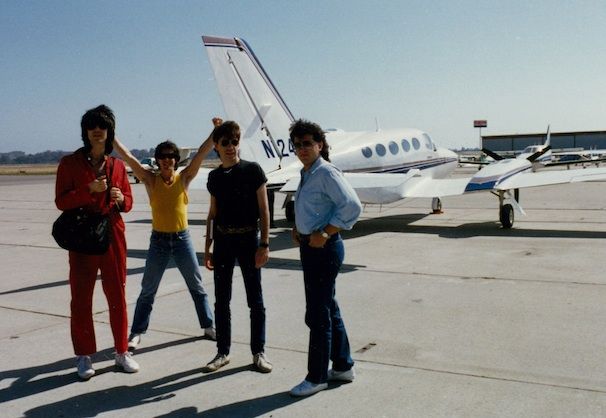 The Reflectors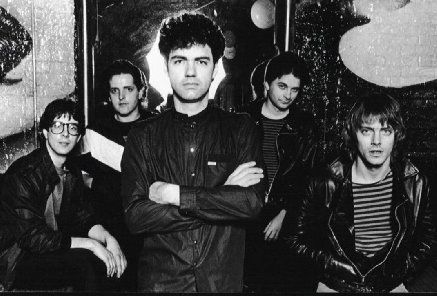 John Muzzy/Drums, Deric Dyer/Sax Keyboards & Vocals, Steve Cataldo/Guitar & Vacols, Jim Perry/Guitar & Vocals, Jonathan Paley /Bass & Vocals.
The Reflectors Live WAAF/TV38 Broadcast "Someone Else In Your Arms"
World Tours . . . Joe Cocker remembered Dyer's magnificent playing and brought him back for his "Unchain My Heart World Tour" starting in September of '87. Dyer stayed with Cocker for six years and he remembers one tour as being very special. It was the "Power and Passion Tour" co-billed with the great Stevie Ray Vaughn in 1989. Later in 1989, Cocker Band recorded a live CD, Joe Cocker Live-­‐-­‐Cocker had hired the Memphis Horns so he was really playing with one of the greatest horn sections of all time. Deric wrote all of Cocker's charts for that CD and eventually became the star's Musical Director. In 1991, Cocker and Dyer recorded "Sorry Seems To Be The Hardest Word" for Elton John on the CD entitled Two Rooms, Celebrating The Songs of Elton John & Bernie Taupin. The band played on The Tonight Show with Johnny Carson, The Tonight Show with Jay Leno, The Arsenio Hall Show, The Tom Jones Show on VH1, Austin City Limits, Unplugged from Montreux, Top of the Pops, The Today Show, Regis & Kelly and other television specials. They recorded two other albums, One Night of Sin and Night Calls. Dyer and the Cocker band were hot, hot, hot. Dyer completed this stay with Cocker supporting the "Night Call Tour" from '92 to '93.
The Great Memphis Horns, Andrew Love, Deric & Wayne Jackson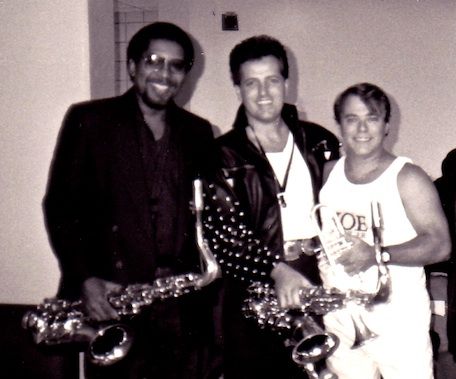 Joe Cocker once more came calling in 1999 requesting Dyer return to lead the band as his musical director once again. The first stretch was the Joe Cocker - Tina Turner tour in 2000--called the "No Ordinary World Tour" and Dyer stayed on the road for another four years, finishing with Cocker's "Respect Yourself World Tour."
The Continental Connection . . . After the "Night Calls Tour," Dyer also connected with a mega-watt European show featuring a full symphonic orchestra called "Night of the Proms," produced by a couple of creative guys from Antwerp, Belgium. Night of the Proms is a highly produced concert with audiences of 20,000 - 40,000 per show. With this association, Dyer added tours with contemporary artists such as Bryan Ferry, Rodger Hodgson [Supertramp], Andrea Bocelli, Christopher Cross, Tony Hadley [Spandau Ballet], Al Jarreau and John Miles to his resume.
Joe, Deric, Tony Hadley & Chris Stainton
Dyer Headlines . . . While still on the road with Cocker in 2001, Dyer released his first Adult Contemporary CD entitled Heart & Soul on DelBoy Records. Featuring eleven cuts, the tunes are smooth and sensual--elegant and melodic. You & I [featuring just piano and sax] and First Kiss [which received lots of play on MusicNet and Rhapsody] followed. Deric Dyer's last CD, No One's Sleeping, features several soulful R&B standards, a new take on "Nessun Dorma" and an original. Each tune keeps us dancing and wanting more and the cuts make us imagine his days on the road with Cocker and Turner--the thousands of screaming fans, the megawatt tech plots and the exhilaration of being on stage with these giants.
Continuing The Work . . . Deric's focus for the last few years has been showcasing his talent and his band throughout New England. He has performed on Boston's Fox 25 Morning Show as well as in benefit concerts for the Lupus Foundation, The Second Step and The American Heart Association. He also performed with some long time musical friends for the first major photographic exhibition on rock 'n roll. Titled Who Shot Rock & Roll, the exhibit opened at the Worcester Art Museum. While continuing to play, Deric has also been developing a half hour TV show called Inside The Music. The show aired for the first time on April 9th, 2010 on TV3 Medford Cable Network. On the show, Deric interviewed and performed with beehive queen singer Christen Ohlman from Saturday Night Live and her band, Rebel Montez. Now Deric is developing new episodes of ITM. Ultimately, he wants to do something similar to Daryl Hall's New Hampshire TV show which features musicians coming in and performing with him interspersed with interviews. On September 21, 2012, Deric was a part of an incredible musical event in his former home of Bermuda. He was asked by Executive Producer Tony Brannon to play on the John Lennon Tribute CD and perform at a live concert with Maxi Priest, Roy Young and many of the up-­‐and-­‐coming Bermudian artists. This event was held at Bermuda's beautiful Botanical Gardens and it was a tremendous tribute to John Lennon, who composed the music for his last two recordings on the island. Now, Deric's newest CD, Renaissance Man is finally complete and has just been released. On this CD, Deric re-­‐released his favorite tunes from his previous CDs and added four new tracks. This CD really shows his love for all different styles of music and his ability to make them his own. Tracks include titles like "Gimme Some Lovin'," "Whatever Lola Wants," " Stand By Me," "Nature Boy," "Use Me Up" and "You & I."
"Renaissance Man is the defining moment in my musical career," says Deric. "Let the journey go on!"